During the early hours of Wednesday, October 5th, it's time for a new update of Visiba Care! In this release, it will be possible to:
Blur the background in the video call
Test the technology in the new lobby
Get an overview of the patient's other cases
Further down, you can also read about what is coming up later this autumn.
Blur the background during a video call
Many healthcare professionals have longed to be able to blur their background during a video call! With this feature, you not only avoid cleaning the room before the meeting - a calm and neutral background also provides the conditions for better conversation focus. The function is available both to healthcare professionals and to participants using the web interface. (Note: The feature is not available in Firefox.)
New lobby - with technology test
Now it will be easier to test the technology before a video call! Healthcare professionals and participants using the web interface can test their microphone and camera directly in the lobby, to ensure that the technology is working as it should.
See the patient's other cases
In order for healthcare professionals to quickly get a better overall picture of a patient, they will now be able to see an overview of all the patient's cases in the clinics where the healthcare professional works. The information is presented in the patient summary and is displayed both during booked visits (digital and physical), drop-in and message conversations.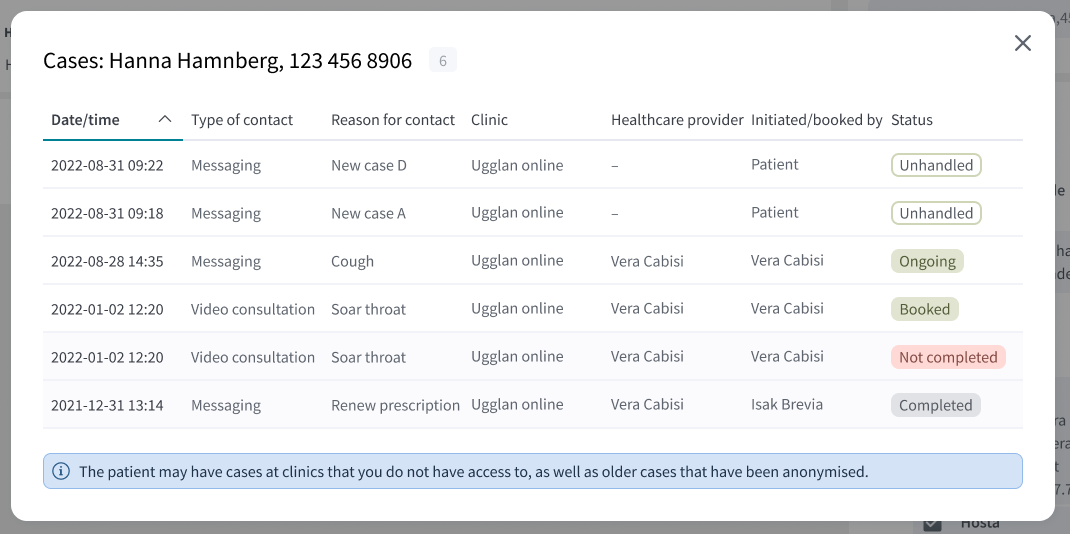 --------------------------------------------------------------------
Coming up in Visiba Care
We continue to work on a number of exciting news that we plan to release later this autumn! Then patients will be able to enjoy a more user-friendly chat, and get a better overview of their ongoing and completed cases. In addition, they get the opportunity to write messages or chat with their healthcare professional in their smartphone, without having to download the app.
--------------------------------------------------------------------
You can read more detailed information in our release notes which are published with each update. You can also get an overview of the different user permissions each change applies to and the upcoming changes in the patient apps.