During the early hours of Tuesday, March 1st, we will update the Visiba Care platform with the long-awaited news- a new start page in the app, which will enhance the patients' user experience! Schedulers and administrators will now have the opportunity to filter the times booked by patients and healthcare professionals in the calendar overview, which facilitates planning.
Read more about the most important news below.
New home page in the patient app
In December, we were proud to present a new home page for patients' web interfaces, and now it's time for the app! With a clear, easy-to-navigate, and flexible home page in the app, it will be easy for patients to find what they need.
As before, the patient can use the service without logging in. But it is only after logging in that the home page has been adapted and shows unique information relevant to that particular patient. Therefore, we have made the login extra smooth, and the patient is encouraged to log in every time the app is opened.
At the top of the home page, the patient gets an overview of their interactions with the healthcare organisation. It shows, for example, upcoming appointments, unanswered forms, and unread messages. This reduces the risk of the patient missing an appointment or other important information.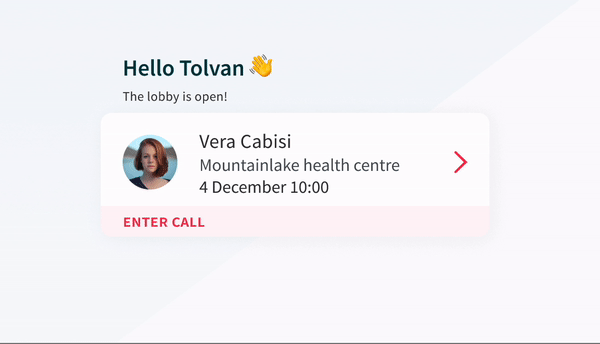 A patient can proceed to the correct reception in three different ways. It is possible to:
use the search function - easy if you know which reception you are going to.
browse receptions - an option for those who are more insecure.
choose from the two most recently visited receptions - for patients with recurrent appointments.
The patient can easily change the reception or return to the home page by clicking on the back arrow on the home page of the reception.
NOTE! If you only work with one reception, or if only one of your receptions is visible to patients and the rest are hidden, the new home page will not be displayed - it is only displayed for organisations that allow patients to choose from several receptions.
Healthcare- and patient-initiated bookings can be viewed separately in the calendar overview
To provide a more detailed overview of the booking situation at the reception, we now make it possible to filter out which times have been booked by patients and which have been booked by healthcare professionals. This information makes it easier to see the need and plan for how many bookable times you should reserve for patient-initiated bookings.
You can read more detailed information in our release notes which are published with each update. You can also get an overview of the different user permissions each change applies to and the upcoming changes in the patient apps.