During the early hours of Tuesday, March 22nd, we will update the Visiba Care platform with changes that make it easier for healthcare professionals and administrators to handle forms. In addition, you can get a sneak peek at the new call that we will launch in April!
Read more about the most important news below.
Easier to work with forms
It will now be easier for healthcare professionals to add forms when sending a message to a patient. Having to scroll through all the forms configured for the entire organisation is just a memory, as now, only the forms that the administrator has activated for the reception will be displayed in the list. Thus, it will be easy to pick the right one.
The administrator needs to actively publish the forms for them to be displayed to the healthcare professional. To make this step more straightforward, we have moved the publishing slider higher up in the view and improved the text in the platform. The configuration for sending forms automatically works just as before - the administrator ticks whether the form should be shown before the call, after the call or before a message is sent, or alternatively leaves the checkboxes blank, and then publishes the form. Regardless of what option is selected, healthcare professionals will still be able to add the form manually when starting a message conversation.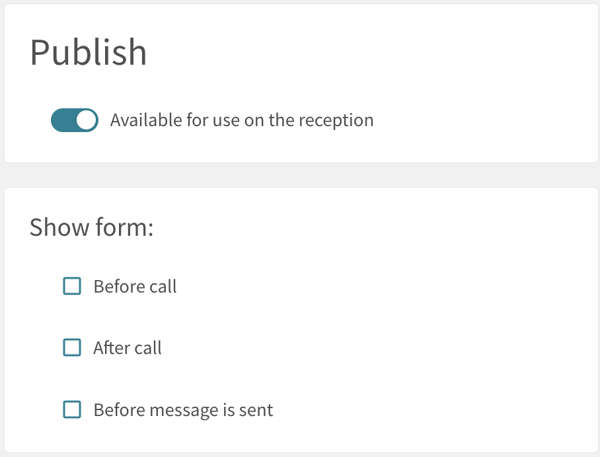 Sneak peek at the new video call
We are so excited to launch the new video call in April! Healthcare professionals and patients who use the web interface can look forward to improved functionality, a clearer view and that it's possible to see yet another 9 participants in the video stream at the same time. It won't be necessary to read any instructions to start using the new call – it is intuitive and works in the same way as before. But if you are curious, you can click here to get to an article in our help centre to find out more details regarding what's new
You can read more detailed information in our release notes which are published with each update. You can also get an overview of the different user permissions each change applies to and the upcoming changes in the patient apps.