During the early hours of Thursday, 28th April, it's time for a new update of Visiba Care! In this update, we want to highlight the following news:
It will be easier for patients to browse to the correct reception.
The blue marking around the speaker is only displayed for multi-party calls.
Further down in the text, you can also see what's going on in the subsequent update, which we plan to release in mid-May.
Read more about upcoming news below.
Updated view to browse receptions in the patient web
When we launched step 1 for the new patient web in December, the patient could choose between searching for a reception, seeing their most recently visited clinics or browsing through all the organisation's receptions to find the right one. Now we are improving the third option - with an updated design, we have made the scrolling view clearer, so the patient can quickly and easily find their way to the correct reception.
The structure of receptions will not be affected, and you do not need to do anything before the update. So you can sit back and just look forward to the current information being presented in a more straightforward way to the patient!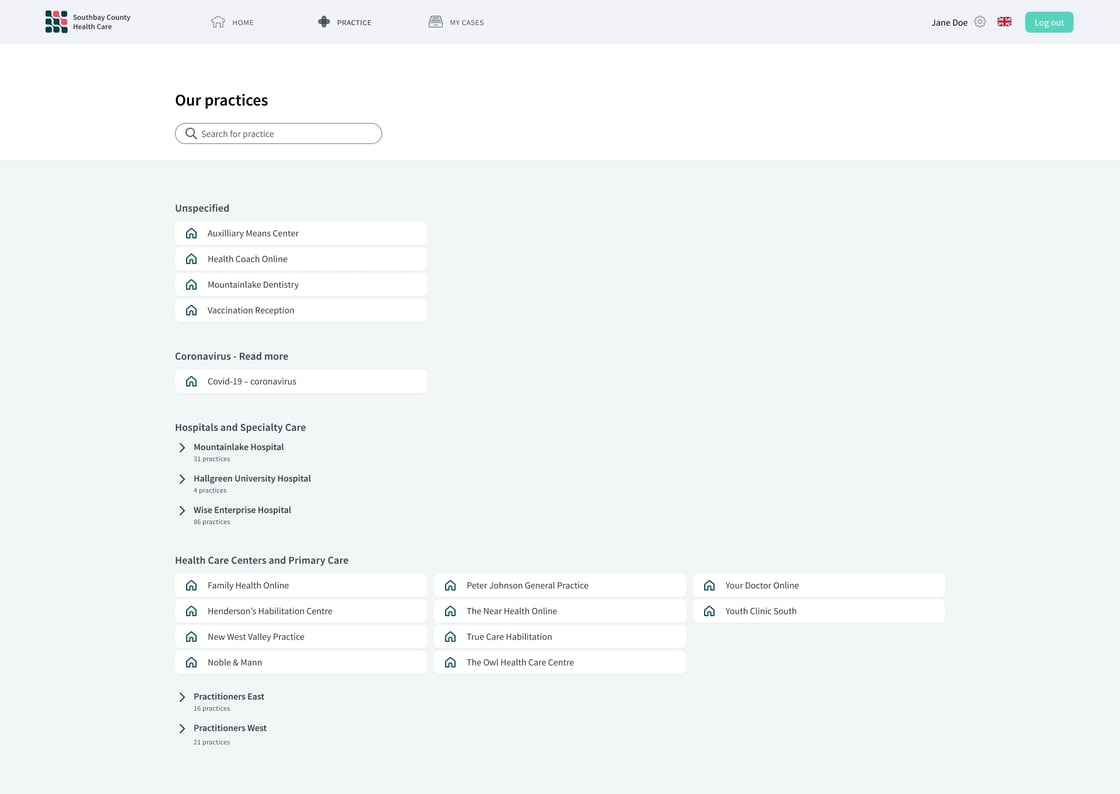 The outline that indicates who is talking is only displayed during multi-party calls
For video calls with only two participants, e.g. healthcare professional and patient, we have now removed the blue outline that appears around the talking participant, to make the conversation view as harmonious as possible. However, the outline will remain for multi-party calls, as it is valuable to clearly see who is speaking.
------------------------------------------------------------------------------------------------------
Coming up in the subsequent update
In the next update, which will be released in mid-May, we plan to launch some features that will facilitate the working day for healthcare professionals:
Message conversations can be forwarded to another reception
When you can hand over cases between receptions, it becomes easier to help! After the handover, the case comes directly to the other reception's inbox and can be picked up by an available healthcare professional.
Reason for contact and priority can be added to the message overview
Healthcare professionals will be able to see the reason for the contact and priority directly in the message overview, and thus have better conditions for handling matters in the right order and providing care as needed.
You can read more detailed information in our release notes which are published with each update. You can also get an overview of the different user permissions each change applies to and the upcoming changes in the patient apps.